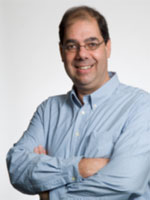 Contact Dr. Lazarus
Mailing Address:
Transfusion Medicine Research
St. Michael's Hospital
30 Bond Street
Toronto, ON, M5B 1W8
Canada
The Keenan Research Centre in the LKSKI
St. Michael's Hospital
209 Victoria Street, Rm 422
Toronto, ON, M5B 1T8
Canada
Phone Number: 416-864-5599
Email: lazarusa@smh.ca
Scientist
Centre for Innovation
Canadian Blood Services
Scientist
Keenan Research Centre of the Li Ka Shing Knowledge Institute
of St. Michael's Hospital
Professor, Medicine
University of Toronto
Understanding Diseases to Optimize Transfusion Practice
Dr. Lazarus' laboratory is investigating a particular autoimmune disease termed immune thrombocytopenia (ITP) in which patients have antibodies against their own platelets. This autoimmune disease results in a loss of platelets which in turn can lead to uncontrolled bleeding and in rare cases death. Dr. Lazarus' expertise also extends to hemolytic disease of the fetus and newborn (HDFN) in which antibodies produced by a mother can target the red blood cells of her fetus or newborn.
Why is this important?
Understanding ITP and HDNF, and how current treatments for these immune diseases work, could help provide better treatments for patients.
Leadership Roles:
| | |
| --- | --- |
| 2015 | Tibor Greenwalt Memorial Award & Lectureship awarded by AABB |
| 2013 - Current | Member, Peer Review Grant Committee, St. Michael's Hospital |
| 2011 - Current | Chair, Animal Care Committee, St. Michael's Hospital |
| 2011 - 2014 | Chair, Animal Care Committee, Toronto Centre for Phenogenomics |
Education:
Doctor of Philosophy in Microbiology & Immunology, McGill University