Need Help or want to give your feedback?
Whether you're having trouble with your account, or would like to make a suggestion, Canadian Blood Services offers you quick and convenient options to troubleshoot or get in touch. Contact us via live chat, consult
our FAQ
, send an email
feedback@blood.ca
, or give us a call at 1 888 2 DONATE (1-888-236-6283).
Honouring a courageous blood safety advocate 20 years after the Krever Commission
The James Kreppner Award Program supports legal research relevant to Canadian Blood Services. This year's award competition closes November 30.
Nov. 26 marks the 20th anniversary of Canada's public inquiry into the contaminated blood crisis of the 1980s and 1990s, which culminated in Justice Horace Krever's recommendations for a national, accountable, public blood service.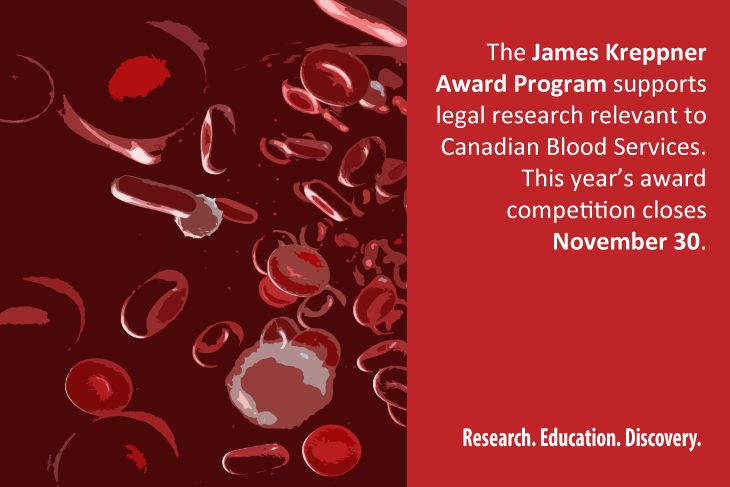 In response to the tragedy, governments of the day created Canadian Blood Services in September of 1998. The organization is observing Krever anniversary in several ways. One of these is drawing attention to the award given in the name of the late James Kreppner.
James Kreppner was a lawyer and patients' rights advocate. He had a severe form of hemophilia-A, a genetic disorder that makes it difficult for blood to clot, and his condition often required transfusions of blood products. In 1985, he became infected with HIV and hepatitis C through tainted blood products.
Because of his experience, Mr. Kreppner became a key figure in establishing the public inquiry into contaminated blood and testified twice before the Commission. He was also a longtime volunteer and member of the Canadian Hemophilia Society and eventually became a much-valued member of the Canadian Blood Services' board of directors.
The James Kreppner award was established posthumously to honour his contributions to Canada's blood system and his commitment to blood safety.
Research priorities for the James Kreppner Award include the legal and regulatory aspects of (a) donation, collection, storage, and use of blood, blood products, and hematopoietic stem cells; and (b) organ and tissue donation and transplantation. The 2017 Award will support one project with up to $50,000 for a period of one year. This year's competition closes Nov. 30, 2017.
Past recipients have found the award opened the door to a highly positive experience:
"In short, this fellowship has been an incredibly rewarding experience that has allowed me to integrate into a fantastic community of clinicians, researchers, and professionals from a wide range of disciplines and backgrounds. And in the process, I've pursued interesting research, shared my work all over the country and abroad, and built relationships and opportunities for collaboration that will continue well beyond the fellowship as I embark on the next phase of my career."

~ Maeghan Toews, 2014 James Kreppner Award recipient.
Find out more about past James Kreppner Award program projects:
Further reading:
---
Canadian Blood Services – Driving world-class innovation
Through discovery, development and applied research, Canadian Blood Services drives world-class innovation in blood transfusion, cellular therapy and transplantation—bringing clarity and insight to an increasingly complex healthcare future. Our dedicated research team and extended network of partners engage in exploratory and applied research to create new knowledge, inform and enhance best practices, contribute to the development of new services and technologies, and build capacity through training and collaboration. Find out more about our research impact.
The opinions reflected in this post are those of the author and do not necessarily reflect the opinions of Canadian Blood Services nor do they reflect the views of Health Canada or any other funding agency.
Related posts
Recent posts
Posted by Dr. Geraldine Walsh
Posted by Dr. Geraldine Walsh
Posted by Dr. Geraldine Walsh