Need Help or want to give your feedback?
Whether you're having trouble with your account, or would like to make a suggestion, Canadian Blood Services offers you quick and convenient options to troubleshoot or get in touch. Contact us via live chat, consult
our FAQ
, send an email
feedback@blood.ca
, or give us a call at 1 888 2 DONATE (1-888-236-6283).
Deceased donation in the spotlight at Critical Care Canada Forum 2017
This post was edited and updated on Nov 23, 2017.
The Critical Care Canada Forum (CCCF) is a four-day conference for intensive care physicians and other health professionals involved with the care of critically ill patients. For a third year in a row, Canadian Blood Services and Trillium Gift of Life Network led the planning for a focused two-day deceased donation program for donation specialists and intensivists in collaboration with the Canadian National Transplant Research Program (CNTRP) and the Critical Care Canada Forum (CCCF).
Taking place in Toronto in early October, the Deceased Donation Symposium at CCCF focused on sharing knowledge and learning from both Canadian and International experts. Dr. Paul Murphy, who works in deceased organ donation for the UK National Health Services Blood and Transplant program, shared challenges his program faces and potential opportunities going forward.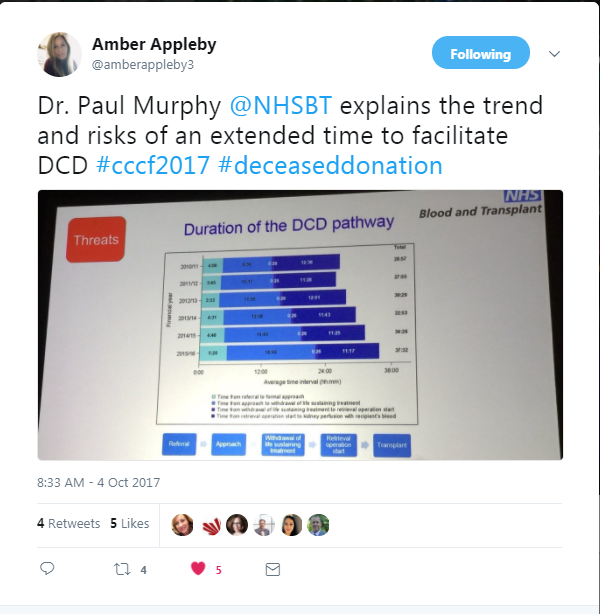 The stream itself focused on important, timely and relevant topics such as the impact of missed donation opportunities and Medical Assistance in Dying (MAiD) on organ and tissue donation in Canada.
At the Sunrise "Ask the Expert" Breakfast session, attendees were able to learn from prominent leaders in the field, ask challenging questions, and discuss highlights and successes of leading donation programs from around the globe.
A key feature of this year's Deceased Donation Symposium was a Donation after Circulatory Determination of Death (DCD) Heart Donation and Transplant Mini-Symposium to inform the conversation in Canada. It was a unique opportunity to clarify bioethical implications and perspectives while also learning about evolving processes, practices, and technologies from content experts who shared their experience in Australia, the United Kingdom and the United States.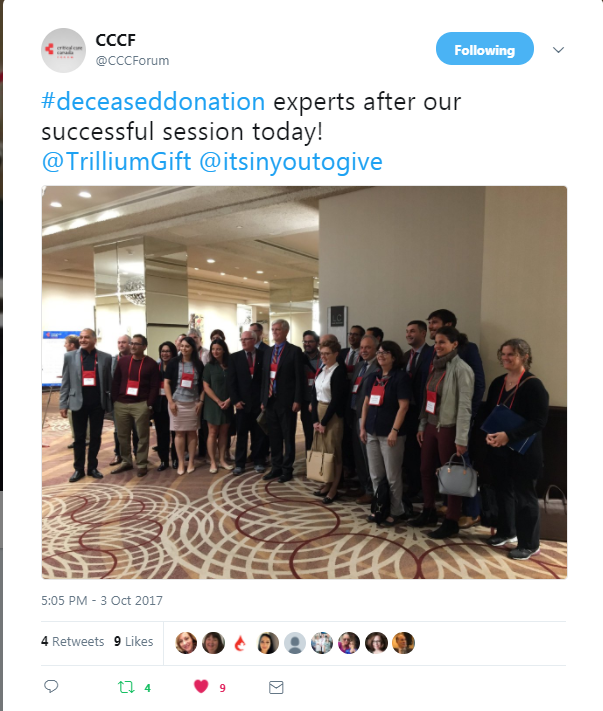 Participation in CCCF is one knowledge translation mechanism employed by Canadian Blood Services. This year's event also served as the first face-to-face networking opportunity for the Canadian Donation Physician Network, focused on building a national community of donation-focused physicians committed to enhancing deceased donation activity in Canada. We aim to educate the donation physicians in Canada, mentor new ones and do case studies. We advance access to other donation physicians to support clinical decision-making and make resources available. It serves as a forum for members to collectively champion leading practices in donation, support research collaboration, share knowledge and build expertise.
Presentations from CCCF2017 are now available online. Every year we record the talks and post them on our Professional Education website to offer opportunities to further educate the organ donation and transplantation, critical care and resuscitation community professionals about the current and future advances in deceased donation in Canada and internationally.
Further Reading

"Canadian Guidelines for Controlled Pediatric Donation after Circulatory Determination of Death (pDCD) have recently been released. A summary report of these guidelines was published this month in the journal Pediatric Critical Care Medicine.
---
Canadian Blood Services – Driving world-class innovation
Through discovery, development and applied research, Canadian Blood Services drives world-class innovation in blood transfusion, cellular therapy and transplantation—bringing clarity and insight to an increasingly complex healthcare future. Our dedicated research team and extended network of partners engage in exploratory and applied research to create new knowledge, inform and enhance best practices, contribute to the development of new services and technologies, and build capacity through training and collaboration. Find out more about our research impact.
The opinions reflected in this post are those of the author and do not necessarily reflect the opinions of Canadian Blood Services nor do they reflect the views of Health Canada or any other funding agency.
Related posts
Thursday, November 9, 2017
Recent posts
Wednesday, December 6, 2017
Posted by Dr. Geraldine Walsh
Wednesday, November 29, 2017
Wednesday, November 22, 2017