Hockey Gives Blood scores for patients with assists by NHL and player ambassadors
---
By Deb Steele-Kretschmer
A non-profit that promotes blood and stem cell donation in the hockey community is getting new support from the NHL as well as player ambassadors in other leagues.
The Ottawa Senators recently hosted the first NHL game night event for Hockey Gives Blood, a dedicated group of former hockey players who began supporting Canada's Lifeline in 2018. The group has successfully engaged the hockey community at all levels, from the NHL to the minor leagues, to help ensure Canadian patients get access to lifesaving blood products. Before game night, the Senators invited a local recipient to meet the team.
Image
The game night event took place during a Senators match against the Philadelphia Flyers. Volunteers greeted fans at the entrances, while others helped visitors discover their blood types and book appointments to donate. Attendees also had the chance to win prizes in a "Plinko" style game.
Meet Brandon Schuldhaus, player ambassador
Hockey Gives Blood also continues to build support among major junior and university hockey players. Already, 24 CHL teams support the initiative, and this season, the organization launched a new player ambassador program.

The program appeals to young champions within the CHL and university teams. Currently, 11 ambassadors are actively promoting the importance of blood and stem cell donation among teammates and fans.
One of those ambassadors is Brandon Schuldhaus, a 21-year-old player from Calgary who played full-time in the CHL for four years and who now plays for the Queen's Gaels. Despite his busy school schedule as a student at Queen's University, he's made time to promote a Halloween blood drive sponsored by a local radio station in Kingston and to bring his hockey teammates to a campus event in support of stem cell donation.
Image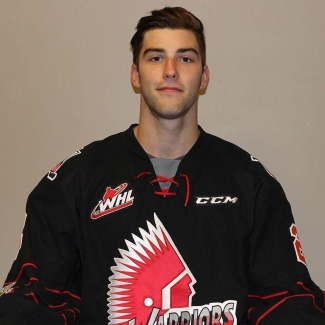 Like those who founded Hockey Gives Blood, he was moved deeply by the tragedy in Humboldt, and got involved with the organization after speaking with co-founder Stu Middleton.
"The hockey community is really tightly knit and the people within support each other and good causes," said Schuldhaus. "I think the importance of blood donation is a great cause us to get behind."
Image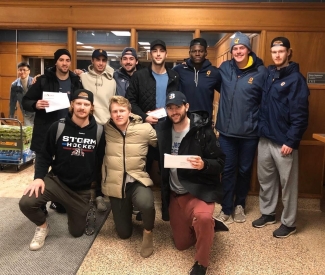 More game events ahead
Beth Frise, manager of partnership development with Canadian Blood Services couldn't be more pleased with Hockey Gives Blood and the support it draws from the hockey community.
"It has been really exciting to see the player ambassador program develop and how leaders like Brandon are engaging their teammates and community," she said.
"Now that our first NHL Game Night is behind us, stay tuned for more Hockey Gives Blood action as we participate in a number of CHL game nights, in February's stem cell campaign and in Hometown Hockey taking place in Edmonton."
You can learn more about Canadian Blood Services' partnership with Hockey Gives Blood on our website.