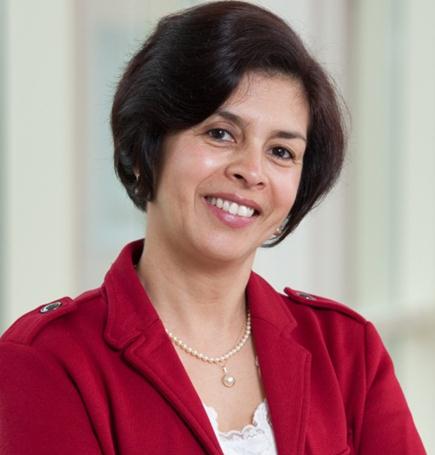 Contact Dr. Ramirez-Arcos
Mailing Address:
Canadian Blood Services
1800 Alta Vista Dr.
Ottawa, ON, K1G 4J5
Canada
Phone Number: 613-739-2169
Email: sandra.ramirez@blood.ca
Development Scientist
Centre for Innovation
Canadian Blood Services
Adjunct Professor
University of Ottawa
Reducing Bacterial Contamination in Blood Components
Bacterial contamination of fresh blood components is the most prevalent transfusion-associated infectious risk, and platelet concentrates (PCs) are the blood product most likely to be infected. Dr. Ramirez' applied research projects further our understanding of contamination of fresh blood components and stem cell products and help develop better methodologies for bacterial detection.
Why is this important?
Dr. Ramirez' research on detection of bacterial growth in blood and stem cell products contributes to the distribution of safer blood products for Canadian patients.
Dynamics of Bacterial Growth and Biofilm Formation in Blood Products
Dr. Ramirez' team has developed extensive expertise around bacteria forming surface-attached aggregates known as biofilms. The formation of such biofilms is associated with increased pathogenicity and might explain instances of missed bacterial detection in blood components.
Why is this important?
Biofilm formation is a serious hurdle for the detection and elimination of bacterial contamination of blood products. Dr. Ramirez' work informs efforts to prevent contamination from these bacteria and improve their detection, at every step from skin disinfection before donation to testing our final products.
Leadership Focus:
| | |
| --- | --- |
| 2014 - Current | Member, Microbial Sampling and Testing, Bioburden subgroup, Organs and Tissues, Canadian Blood Services |
| 2015 | Current Co-chair, Working Party - Bacteria subgroup; Transfusion Transmitted Infectious Diseases (TTID), International Society for Blood Transfusion |
| 2013 - 2015 | Member, Working Party - Bacteria subgroup; Transfusion Transmitted Infectious Diseases (TTID), International Society for Blood Transfusion |
| 2014 | 2014 Vox Sanguinis Best Paper Prize for the best original article published in Vox Sanguinis in 2013 awarded by the International Society of Blood Transfusion |
Education:
Doctor of Philosophy in Biological Sciences, Universidad Autónoma de Madrid, Spain

Masters in Microbiology, Universidad de los Andes, Colombia