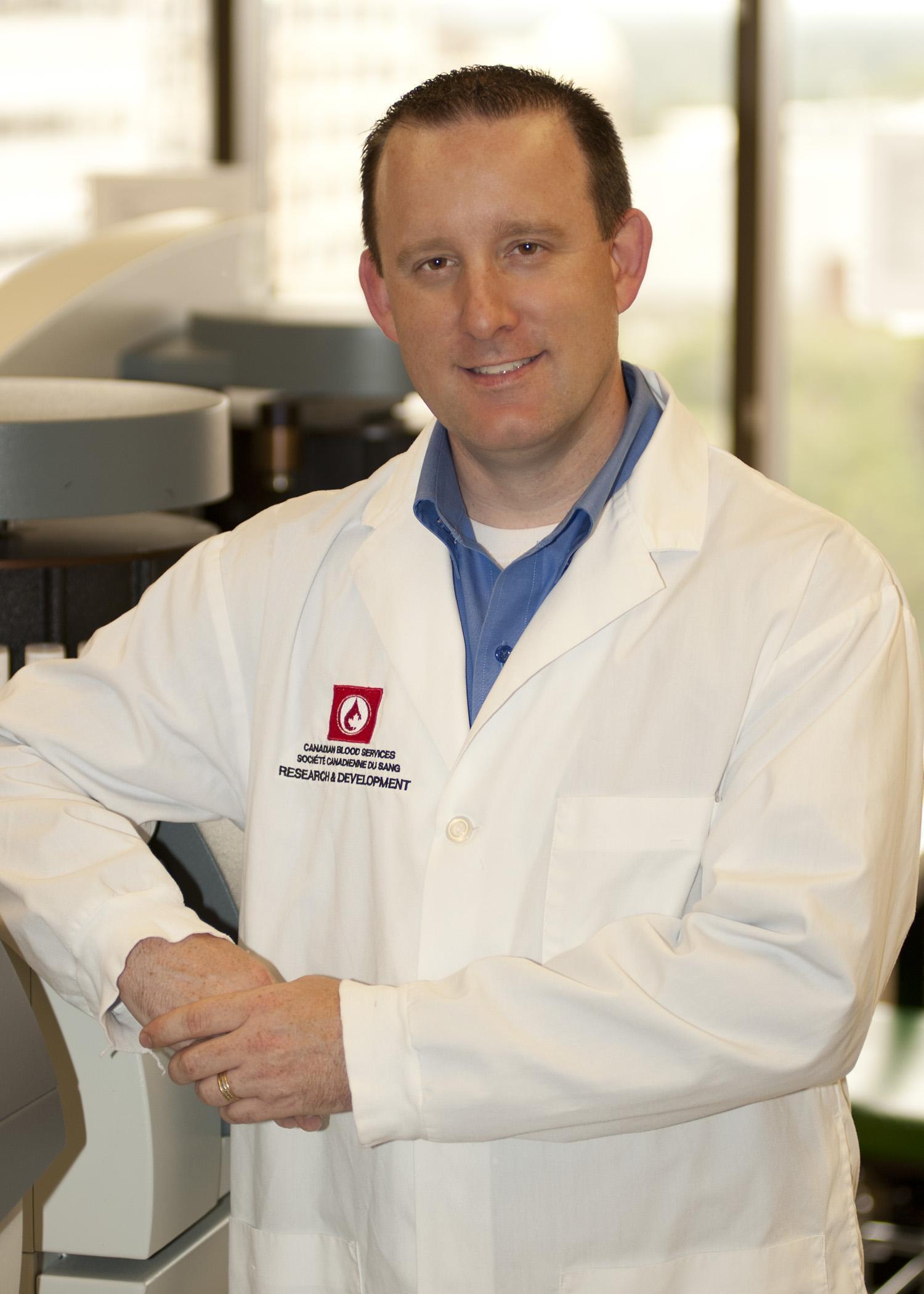 Contact Dr. Acker
Mailing Address:
Canadian Blood Services
8249 – 114th Street
Edmonton, AB, T6G 2R8
Canada
Phone Number: 780-702-8629
Email: jason.acker@blood.ca
Senior Scientist
Centre for Innovation
Canadian Blood Services
Professor
Laboratory Medicine and Pathology
University of Alberta
Blood Product Manufacturing and Quality Assessment
Our group is developing new approaches for the optimal manufacturing and storage of red blood cell components.
Why is it important?
Optimizing the quality of stored red blood cells is essential to provide patients with an effective blood component. By understanding how donor factors and blood collection and manufacturing influences product quality, it allows blood operators the ability to improve the efficiency and safety of blood component manufacturing.
Blood Cell Cryopreservation and Desiccation
Our group is interested in addressing some of the issues associated with cryopreservation and desiccation processes in the large-scale environment of a blood operator.
Why is it important?
Cryopreservation, a process whereby biological function is maintained by freezing and storing at ultra-low subzero temperatures, can be used to extend the storage time of blood cells.
Microfluidic Devices for Blood Testing
Our group is developing novel, cost-effective, automated devices for blood testing.
Why is it important?
This new technology has the potential to change how blood operators perform tests on blood products to ensure the safety of the blood supply and reduce the costs of tests.
Leadership Roles:
| | |
| --- | --- |
| January 2016 - Current | President, international Society for Cryobiology |
| September 2013 - Current | Associate Blood Services Member, Biomedical Excellence for Safer Transfusion (BEST) Collaborative |
| July 2013 - Current | Member, Editorial Board, Transfusion Medicine and Hemotherapy |
| 2012 | Queen Elisabeth II Diamond Jubilee Medal – This commemorative medal was created to mark the 60th anniversary of Her Majesty Queen Elizabeth II's accession to the Throne as Queen of Canada. The Queen Elizabeth II Diamond Jubilee Medal is "to honour significant contributions and achievements by Canadians" and was awarded to Dr. Acker to recognize his contributions to blood transfusion and blood safety through his research |
| January 2009 - Current | Member, Editorial Board, Biopreservation and Biobanking |
| January 2008 - Current | Member, Editorial Board, CryoLetters |
| January 2004 - Current | Member, Editorial Board, Cryobiology |
Education:
Master in Business Administration in Technology Commercialization, University of Alberta
Doctor of Philosophy in Medical Sciences, University of Alberta
Master of Science in Experimental Pathology, University of Alberta
Bachelor of Science, University of Alberta