national blood inventory
Canada's blood supply needs a boost before summer
---
Monday, May 15, 2017
Inventory of blood needs an injection of 150,000 donations by July 1
With summer's unofficial kick-off approaching this May long weekend, Canadian Blood Services is calling on all eligible Canadians to roll up their sleeves for patients.
Canadian Blood Services boosts the blood supply every spring to prepare for the summer, when routines are disrupted as regular donors join the thousands of Canadians who head outdoors or out of town to enjoy the warm weather.
This year, a stormy winter and a wet spring have left inventory levels lower than normal. That means there's enough blood on the shelves to meet patient needs today, but supplies need to increase before the summer months.
Cancer patients, accident victims, and people with blood disorders rely on blood transfusions every day even during the summer. When there are fewer people around to donate, there needs to be more blood on the shelves to ensure patients get what they need.
Canadians are strongly encouraged to roll up their sleeves to build the blood supply to the level it needs to be.
Mark Donnison, vice president, donor relations, reminds us that "for patients, the demand for blood never takes a holiday. We need 16,000 blood donations every week to stock our shelves and continue to help patients throughout the summer."
While there's a greater need for Type O blood, all donors are encouraged to book an appointment today. There are at least 3,000 appointments each and every week left waiting to be filled.
Did you know?
Even though half of the Canadian population is eligible to donate, only four per cent of people do. That small group provides blood for everyone, so as Canada marks its 150th anniversary, one way Canadians can celebrate is to respond in high numbers. Bring a friend or make it an event by donating as a group.
To make a difference and save a life:
 
Book and keep your next appointment.
Bring along friends, family members or coworkers to donate with you. Almost all first-time donors do so as a group.
Walk into a clinic and donate on the spot. For a list of current clinics, please visit blood.ca or download the mobile app.
To book an appointment, use the Give Blood App for Apple or Android or visit blood.ca.
Blood donations needed: National inventory has declined this summer
---
Tuesday, July 28, 2015
Donors are needed to boost inventory through the August long weekend
(OTTAWA) – The national blood inventory has steadily declined this summer and needs a boost to continue to meet the needs of patients through the August long weekend and into the coming weeks.  Canadian Blood Services is asking people to give blood before and after the long weekend. 
Image

"Summer is a challenging time for blood collection, when many regular donors are on vacation, - this is great time for new donors to join us and help prevent a further decline in the national inventory," says Mark Donnison, vice president of donor relations.  "Platelets derived from blood are critical to help stop bleeding and unfortunately expire just five days after a blood donation."
Jill Nicholson understands the need for blood all too well.  She was driving home from work on her motorcycle in June 2012 when she collided with an SUV pulling a trailer, crushing her leg.  In the first 24 hours, she required surgery and 11 units of blood to replace blood lost as a result of the accident. Link to story
Image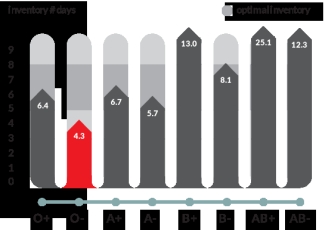 Jill is thankful for the blood that helped save her life and encourages all eligible donors to give their most precious gift.
"There are many people who need blood on a daily basis. Just think of all the people who need blood because of accidents and medical conditions. Blood donors are the great people who help save them.  They help keep so many people alive without even knowing them."
The Canada Safety Council reports that "more fatalities occur on Canadian roads during summer months than any other time of year." It can take up to 50 donors to help save someone who has been in a motor vehicle accident.
To book an appointment to give blood, use the Give Blood App or visit blood.ca. Those with appointments are encouraged to keep their appointment and, if possible, bring a friend or family member to donate with them.  Walk-ins are also welcome.
Check out the status of our national blood inventory.
Quick Facts
Ideally, Canadian Blood Services should have 20,000 - 30,000 units of blood in their inventory.
Canadian Blood Services needs to collect a minimum of 16,000 units of blood each week to meet the needs of patients
Platelets expire after 5 days
Red blood cells expire after  42 days
Plasma expires after one year