The issue
Cord blood (CB) units are stored frozen at -196°C until they are required for transplantation. Protocols for storage or shipping of frozen CB units can result in transient warming of the units above critical subzero temperatures, which may impact cell viability and efficacy. Protocols for thawing CB units prior to transplantation are also critical in ensuring product efficacy. Canadian Blood Services examined how different protocols for handling and thawing affected CB quality.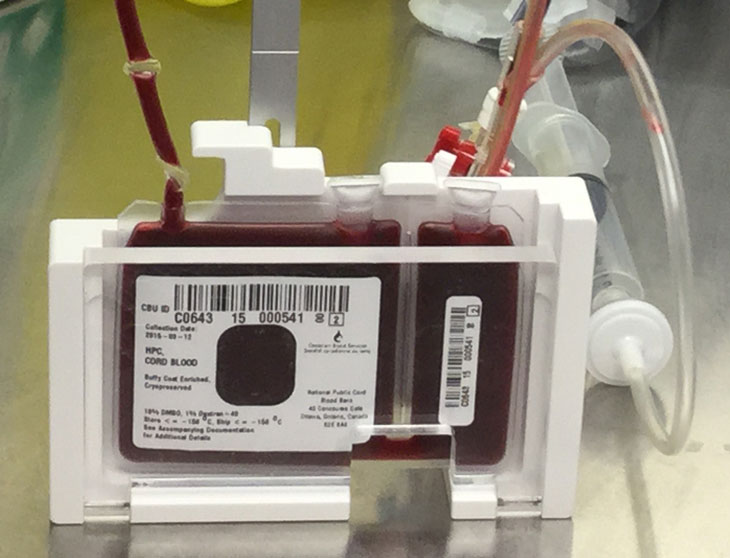 The evidence
Researchers measured time needed for a CB unit to reach three internal temperatures (-150, -135, -120°C) under various conditions when removed from frozen storage and then determined the effect of these temperature changes on total cell count, CD34+ cell count, cell viability and colony forming units as proxies for CB quality. Based on the results, they modified the CB unit handling protocol to keep the temperature of the CB unit below -135°C at all times. The researchers also tested the impact of different thawing reagents, reagent temperatures, and equilibrium steps on post-thaw CB quality. They optimized the thawing protocol and identified Plasma-Lyte A as an alternative to dextran-40, which has been in chronic shortage for many years.
The impact
The new standardized protocols developed for handling and thawing CB units will optimize product quality and reduce variability between processing centres at Canadian Blood Services and hospitals. This will maximize the clinical effectiveness of transplanted CB units and patient outcome. The new protocols also contributed to the success of our Cord Blood Bank in achieving FACT accreditation, a global standard for top quality patient care in cellular therapies.
Published November 2017