Hospital Newsletter March 2016
Welcome to BloodNotes, Canadian Blood Services' new e-newsletter for our hospital customers. We will be sharing informative and educational articles on topics related to transfusion and transplantation medicine as well as a variety of other subjects of interest to you. Stories in BloodNotes extend beyond the operational matters shared through our customer letters.
We encourage you to forward this email to other colleagues at your health-care facility or post articles of particular interest in lunchrooms or other high traffic areas.  
We also welcome your feedback and encourage you to contact your local hospital liaison specialist with any comments or suggestions you may have.
Happy Reading!

Kathryn Webert, MD, MSc, FRCPC
Medical Director, Utilization Management    
---
Transfusion medicine is a well-established clinical practice. However, blood and blood product use in transfusion is not always optimal and varies from hospital to hospital. To encourage optimal use of blood and blood products, we developed an effective approach to engage and inform hospitals.
In 2013, we tried out a new format to share data with hospitals. Primarily aimed at chairs of hospital transfusion committees, the BloodBrief focuses on a specific blood product and its utilization based on data collected by Canadian Blood Services. By sharing this information we hope to raise hospitals' awareness of issue trends and product utilization over time.
BloodBrief topics covered so far include: O-negative red blood cells, group AB plasma, CMV seronegative platelets, and intravenous/subcutaneous immune globulin. These BloodBriefs are available on our website.
Topics and data continue to evolve based on feedback and follow-up survey results. Currently, BloodBrief data are anonymized. If you are not aware of your hospital's identifier for any of the BloodBrief topics, please contact your local hospital liaison specialist. 
---
From April 2014 to March 2015, Canadian Blood Services collected, manufactured and distributed over 113,000 doses of platelets (apheresis and pooled) to hospitals. Platelets are one of the more challenging blood components to manage in part due to its relatively short shelf-life of five days.
The amount of platelet units discarded within the blood system in Canada (excluding Quebec) is higher than many other international blood systems. This means millions of dollars of platelet units are thrown away and not transfused to patients. Management of platelet inventory is a complicated topic, but working together within the blood system, we may be able to identify ways to decrease the number of platelet units that go to waste.
Last fall, as part of our ongoing efforts to understand utilization and share best practices, our hospital liaison specialists conducted a survey of 53 hospitals to uncover best practices around management of platelet inventory.
The goal of this survey was to identify ways to decrease the number of platelet units that are discarded. Hospital responses were candid and provided valuable insight into hospital practices as well as ideas and recommendations on how Canadian Blood Services and hospitals can better work together to optimize the provision of platelets for patients.
All hospitals served by Canadian Blood Services received a customer letter outlining a number of platelet utilization and inventory management best practices used successfully by hospitals across the country. 
---
This AABB accreditation reflects the high quality of our cord blood bank products and the confidence the medical and transplant communities have in us.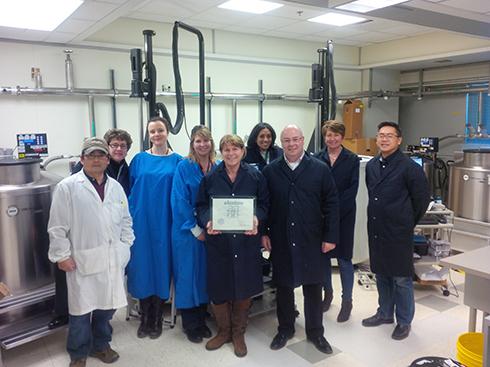 Canadian Blood Services' Cord Blood Bank has reached another milestone now that it has received accreditation from AABB — an organization committed to advancing transfusion and cellular therapies worldwide. The audit was conducted in December, finished ahead of schedule and met all requirements.
Receiving this accreditation is important to us. We believe it reflects the quality of products that our hospital partners can expect from Canadian Blood Services. The exceptional assessment we received from auditors speaks to the commitment our organization places on safety and quality.  
Canadian Blood Services' Cord Blood Bank was officially launched across Canada in June 2015, with two manufacturing facilities and five collection sites in four cities (Ottawa, Brampton, Edmonton and Vancouver).
This national health-care resource provides mothers who deliver at partnering hospitals the opportunity to donate their baby's cord blood and contribute to global efforts aimed at improving the availability of high-quality hematopoietic stem cells for all patients in need. Our cord blood bank is helping to increase the number of Canadian stem cell registrants from diverse backgrounds.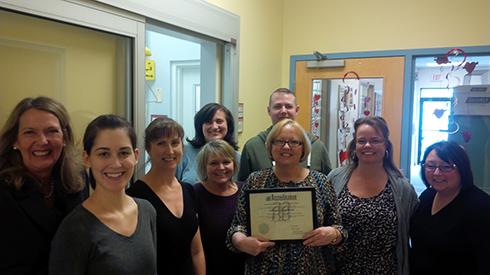 By leveraging Canadian diversity, we hope to increase the probability of finding matches for hard-to-match patients in Canada and all over the world.  Canadian Blood Services will continue to collaborate with international partners and Canadian transplant centres to improve patient outcomes, none of which could have been achieved without the support of hospitals like yours.
 "We're really excited to have our accreditation in hand," says Dr. Heidi Elmoazzen, director of the cord blood bank and stem cell manufacturing. "It gives us credibility on an international stage and greatly increases the chances of our units being selected by a transplant centre."
---
First-time donor Jenn Baron brings family and friends to blood clinic for 26th birthday celebration
As an oncology nurse at the Hospital for Sick Children in Toronto, Jenn Baron relies on blood products to do her job every day.
"We transfuse kids every single day," says Jenn. "We not only see the need for blood for cancer patients, but elsewhere in the hospital as well."
On a recent birthday, Jenn was inspired to help increase the blood supply by donating blood herself. And with her upcoming birthday in mind, she decided to get her friends, colleagues, and family in on the act, too.
"I think there's something meaningful in not only giving to a cause, but to sharing it with others."
With just a few weeks left before her birthday blood bash, she quickly got to work planning the party: booking 25 donation appointments through Canadian Blood Services, creating a Facebook event page, contacting potential donors to talk about the donation process and eligibility requirements, and packing special loot bags for her party guests.
Twenty-four people committed to give blood in honour of Jenn's special day, many for the first time.
"Nearly 80 per cent of the group were first-time donors, which is really exciting because everyone experienced it together," says Jenn, who also gave blood for the first time. "Many of my friends were using social media to share their first blood donation experience."
While Jenn considered the unique birthday party to be a success, the impact of the event truly hit her at work later that week.
"My first day back, I gave a transfusion to one of my patients, and helped a colleague with transfusions to two other patients," she notes. "Checking the registered lot numbers on each bag, and knowing that those numbers are connected to someone who donated blood, it really brought the entire process full circle." 
Contributors: Cheryl Doncaster, Rob Romans, Dr. Kathryn Webert
Did You Know?
Canadian Blood Services has a professional education website
blood.ca/professionaleducation
Canadian Blood Services' professional education website is the trusted source for health-care professional education materials. We provide vital resources on transfusion of blood components, and donation and transplantation of organs and tissues. Explore our clinical guidelines, leading practices, courses, upcoming events and more.