Syrians for Peace fundraiser gives thanks by giving back to Canadian patients
---
Members of Ottawa's Syrian community presented a cheque for their recent fundraiser in support of Canadian Blood Services and made a group blood donation as part of Syrian Canadian Donation Day on April 14—a nationwide blood drive that took place in several major cities across Canada.
 
Since November 2015, more than 35,000 refugees from the Syrian crisis have arrived in Canada and approximately 2,000 now call Ottawa home. The Syrians for Peace fundraiser was organized by Humans for Peace Institution and hosted by members of Ottawa's Syrian community earlier this year, to give thanks for the warm welcome and outpouring of support they have received as newcomers in Ottawa. 
 
"We are trying to engage the newcomer Syrians with mainstream Canadians; trying to give them a chance to give back to the community and help others and feel proud that they are in Canada now," said Dr. Mohd Jamal Alsharif, Founder and President, Humans for Peace Institution "When you feel like you save a life, it's better than anything in this life." 
Image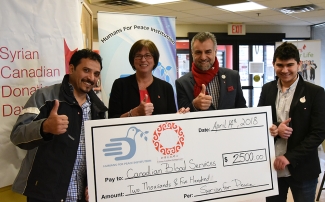 LTR: Mohammad Ali, Vice President, Cultural Affairs, Humans for Peace, Margaret Miedema, Director, Fundraising, Canadian Blood Services, Dr. Mohd Jamal Alsharif, Founder and President, Humans for Peace Institution, Eihab Slhalli, blood donor.
The proceeds from the event ticket sales as well as the sale of traditional, home cooked dishes were donated to Canadian Blood Services to fund programs and initiatives that result in better outcomes for Canadian patients. Guests in attendance enjoyed performances from the Children for Peace choir and Syrian Arabesque band, henna designs, and participated in an art auction featuring the works of Syrian child and youth artists.
 
As a registered charity, fundraising events like Syrians for Peace help fund programs and services in four areas: blood, stem cells, organs and tissues and research and innovation. They help recruit the next generation of blood, organ and stem cell donors, modernize collection centres and support groundbreaking research in transfusion and transplantation medicine.
Make a lifesaving difference and hold your own fundraising event.