Need Help or want to give your feedback?
Whether you're having trouble with your account, or would like to make a suggestion, Canadian Blood Services offers you quick and convenient options to troubleshoot or get in touch. Contact us via live chat, consult
our FAQ
, send an email
feedback@blood.ca
, or give us a call at 1 888 2 DONATE (1-888-236-6283).
More is not always better!
The 11th Annual Transfusion Medicine Education Videoconference Symposium takes place April 13, 2016. Registration is still open.
Canadian Blood Services and ORBCON team up
For 10 years, Canadian Blood Services and Ontario Regional Blood Coordinating Network (ORBCoN) have partnered to offer an annual educational event to develop the transfusion skills of professionals working in community hospitals with the goal of improving patient outcomes.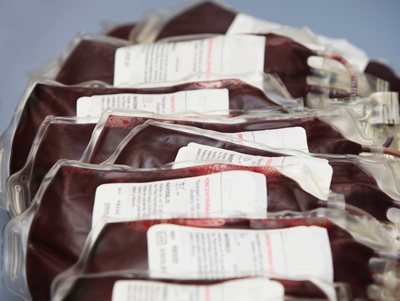 "A popular event every year, this year's symposium won't disappoint. It features a great line up of expert speakers, and will give attendees insights into the latest transfusion practice trends to inform transfusion decisions at their local hospitals," says Dr. Peter Lesley, Canadian Blood Services medical officer and co-chair of the symposium organizing committee.
The event is ideal for healthcare professionals who order, issue or transfuse blood and blood products and those interested in further developing their transfusion skills. It's a FREE Continuing Medical Education accredited (three credits!) event and is presented in two repeating sessions: one morning and one afternoon.
"Through these partnered educational events, Canadian Blood Services and ORBCoN promote best transfusion practices to over 800 health care professionals every year," says Dr. Lesley. "This year, Choosing Wisely Canada recommendations are the focus and will provide valuable insight and tools for professionals."
Program features:
Update and progress of Choosing Wisely Canada
Speaker: Dr. Wendy Levinson MD OC

Choosing Wisely Canada Transfusion Medicine Recommendations: What do they mean and where did they come from?
Speaker: Dr. Allison Collins MD FRCPC

Managing peri‐operative patient laboratory testing and blood component therapy using Choosing Wisely Canada recommendations
Speaker: Dr. Sylvain Gagné MD FRCPC

Adopting Choosing Wisely recommendations as a cross‐discipline hospital initiative
Speaker: Dr. Lisa Hicks MD MSc FRCPC
All participants should register online at www.transfusionontario.org
More is not always better!
Choosing Wisely Canada is a campaign to help clinicians and patients engage in conversations about unnecessary tests and treatments and make smart and effective choices to ensure high-quality care.
When it comes to transfusion medicine there are 10 things physicians and patients should question.
Register before it's too late
Find out all about why "more is not always better" at the 11th Annual Transfusion Medicine Education Videoconference Symposium on April 13, 2016. This event is hosted by the Brockville General Hospital and presented through the Ontario Telehealth Network.
Group viewing sessions have been organized at The Ottawa Hospital, Brockville General Hospital and Kingston General Hospital, but anyone may register to view online. Visit the ORBCoN website for more information and click here to register.
OTN Registration: Morning session: TSM # 50192883 Afternoon session: TSM # 50194915
Recent posts
Posted by Dr. Kendra Hodgkinson
Posted by Dr. Kendra Hodgkinson